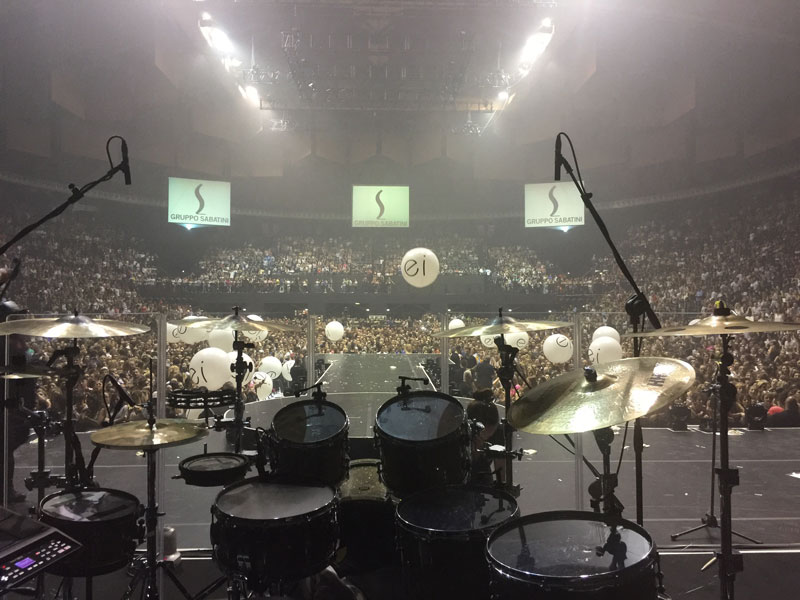 It all started on a hot Saturday afternoon, it was July 2000. I had just graduated from high school and I had just started working as shop assistant in a big music store and backline rent I still work for.
I suddenly got propelled in the organizational structure of those massive festivals and big stages as a backline tech, both working with the shop's gear and being the band's techs' support.
I never wanted to become a freelance tech because working for an hybrid company (which includes a shop and a rental) gave me the chance to be in close contact with many artists and lots of materials an average person could never afford to try. This helped me understand what works and what doesn't experiencing directly on the field.
I put everything I learned in all those years in my drum tuning course, which I recorded in 2018, making it a valuable asset that keeps growing with me.
Even though I've learned a lot in the last 20 years, especially regarding organization and problem solving, when I get the chance to learn new things I'm still as thrilled as the day I started.
Chic - Nile Rodgers Private Party - 2016
Chic & Pharrell Williams - 2021
Enrique Iglesias Love & Sex Tour - 2017
Ian Anderson (Jethro Tull) Tour - 2008
Ian Paice Drums 2003 @Pavarotti & Friends
Keith Emerson Tour - 2006
Oscar Seaton Kit - Lionel Richie - 2019
Patti Smith Medimex - 2019
Patti Smith Medimex - 2019
Queen Drum @Pavarotti & Friends 2003
Questlove & The Roots - 2021
Ralph Rolle Kit - Chic - Nile Rodgers
Steve Gadd & Chic Corea - 2017
Sting - Josh Freese's DW Kit
Sting - Josh Freese's DW Kit